Abracadabra Koala Bear Baby Bedding Set of 6pcs -off White
PRODUCT DESCRIPTION
The Abracadabra 6pc cot bedding set includes an all-around bumper,a quilt/blanket, a flat sheet, two bolsters and a neck pillow. The set is made for a standard American sized cot. Expertly designed  with patchwork, embroidery and appliqués to add colour and vibrancy to your baby's room. Its designed keeping in mind your baby's utmost safety and comfort. Made with breathable fabric all around, so your baby always feels at peace while taking a nap, or playing in the cot.
Key Features
Made from good quality cotton fabric which is breathable and safe for baby
Set of 6 pieces including bolsters, bumper, neck pillow, sheet and blanket
Made for standard american sized cot
Made with keeping in mind comfort and safety of your baby
Cute and adorable print
Specifications
Brand - Abracadabra
Type - Cot Bedding Set

Material - 100 % Cotton fabric with 100 % Polyester filler

Dimensions 
Quilt- 117 x 91 x 1 cm
Bumper- 399 x 25 x 2 cm 
Sheet- 165 x 107 cm 
Bolsters- 28 x 12 cm 
Neck Pillow- 18 x 17 x 5 cm

Items included in package
2 Bolsters, 1 Flat Sheet, 1 Quilt, 1 Neck Pillow and 1 Bumper
Made In: India
BRAND INFORMATION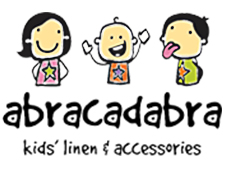 The abracadabra brand is a well known and well loved brand today. A result of quality products, and a passion for Baby Wellness. A part of Vrinda Overseas which is a pioneer in the manufacture and export of Baby & Children Home Furnishing from India, Abracadabra is borne of the finest lineage.Creating a spectrum of things that could make any baby's world a lot better with their presence. Abracadabra, the magic wand of Vrinda Overseas is the magical place where expectant and young mothers can find a One-stop-shop for all their needs and wants. Beautiful, quality products that will transform their lives into a wonderland !!